Natural Diamond Tennis Necklace | Diamonds By The Yard Necklace
Treat yourself to a Wearable Work of Art with this Cloud-Nine Natural Diamond Tennis Necklace or diamonds by the yard necklace. This piece packs a dazzling punch - 5.75 carats of natural diamonds, set in 17.5 grams of 14K gold. G-H in color, I1 in clarity - you'll be the envy of everyone! Slip on this sparkler and watch the compliments come pouring in. (It also makes a fantastic gift!) Let's get this show on the road - with this stunner, you'll be living on Cloud Nine!
Make a statement with this natural diamond tennis necklace.
This is a made-to-order item and cannot be returned.
Product Details:
17.5 grams 14K gold

5.75 CTW in natural diamonds

Color: G-H 

Clarity I1 

Size: 16"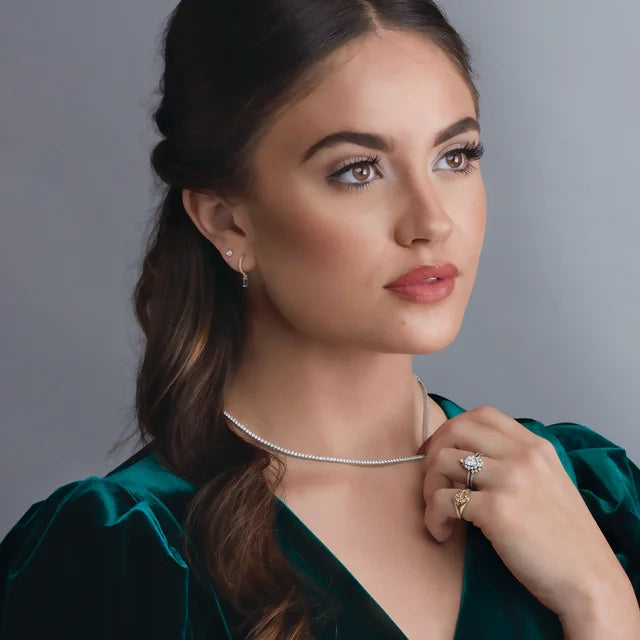 Timeless Elegance
Natural Diamond Tennis Necklace
Step into a realm of timeless sophistication with our Natural Diamond Tennis Necklace. This exquisite piece is not just a necklace; it's a celebration of classic elegance and luxury. Crafted with precision, each diamond is set to create a seamless line of brilliance and charm. Ideal for those who appreciate the finer things in life, this necklace is a symbol of enduring style.
Perfect Harmony of Luxury and Design
Each movement makes the diamonds glint, bringing a continuous play of shimmer and charm. This necklace, whether matched with an elegant dress or a basic top, brings a hint of sophistication to any attire. It stands as a pinnacle of elegance and tastefulness, a piece that would be a prized addition to any jewelry assortment.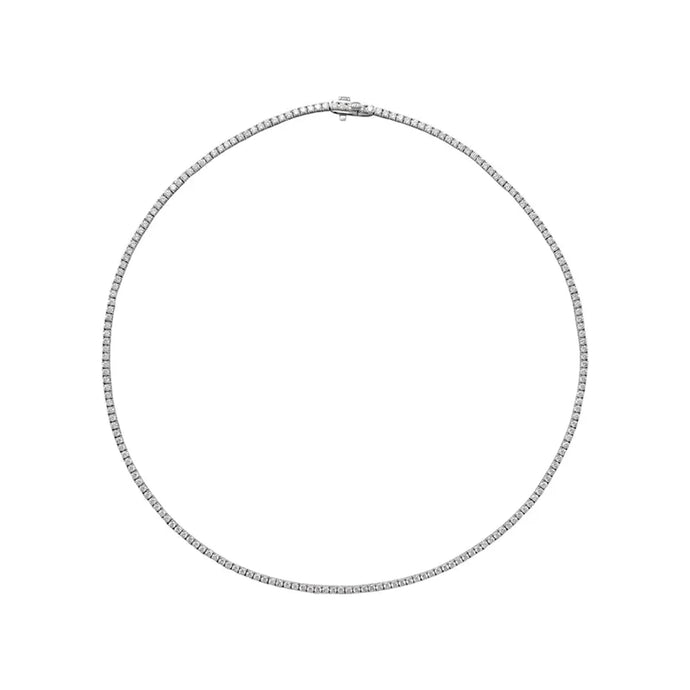 Versatility in Style
Diamonds by the Yard - Redefined
Redefine luxury with our Diamonds by the Yard Necklace, a versatile piece that brings the classic diamond yard necklace to new heights. Available in both gold and white gold, this necklace adapts effortlessly to your personal style and preferences. The diamonds are meticulously spaced, offering a balanced and sophisticated look that's perfect for any occasion.
Elegant Charm for Every Day
Each diamond in this necklace is a testament to beauty and craftsmanship. Whether you're looking for an everyday accessory or a statement piece for special events, this necklace transcends trends and seasons. The Diamonds by the Yard Necklace in gold or white gold offers a subtle yet striking addition to your wardrobe, blending seamlessly with any ensemble.
SHIPPING AND RETURN INFORMATION
Shipping Information

All expedited domestic shipping is complimentary.  There are no order minimum to be eligible for complimentary expedited 2nd-air day shipping. However, please note that all deliveries require signature by an adult. 

For more information regarding shipping Click Here
Return Information

Our goal is for you to be delighted with any item you buy from Lumije.com.  In the unusual event you're not delighted, we offer the following:

Our refund policy allows items shipped within the United States to be returned 14-days from the time of of receipt for a full refund.  However, custom items are not eligible for return or refund. This includes all engagement rings, all made-to-order items (such as special ring sizes, engraved items and bespoke pieces)

For more Information regarding returns Click Here