Make a statement with this beautiful Open Diamond Ring! Crafted of 14K yellow gold, it has 0.25 CTW of G-H color, I1 clarity diamonds. At 3.3mm wide, this size 7 ring will sparkle and shine day and night! (All the better for out-of-this-world romances!)
Product Details:
1.94 solid 14K yellow gold
0.25 CTW of natural diamonds
G-H color
I1 clarity
Size 7
Width 3.3mm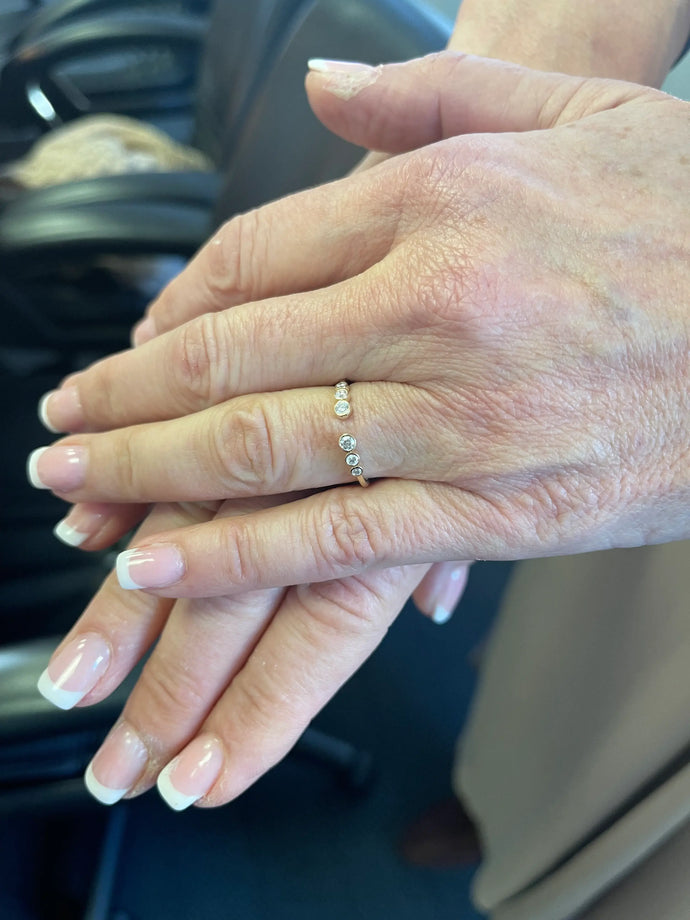 Modern Allure
A Celebration of Contemporary Design
Step into the realm of modern sophistication with our Open Diamond Ring. This ring isn't just a piece of jewelry; it's an embodiment of modern design principles and aesthetic beauty. The open ring style, adorned with dazzling diamonds, offers a unique and eye-catching appearance. It's an ideal choice for those who appreciate innovative design in their jewelry.
Elegant Simplicity
Our Open Circle Diamond Ring variant brings a touch of minimalistic elegance. The circular design, highlighted by the brilliance of diamonds, makes a subtle yet impactful statement. This design blends simplicity with luxury, offering a ring that's both understated and captivating.
Unique and Fashion-Forward
Diamonds in Harmony
The Open Band Diamond Ring presents a blend of unique design and classic diamond beauty. This ring features an open band style, where diamonds are set in a way that maximizes their sparkle and visual appeal. It's a perfect example of how traditional elements like diamonds can be reimagined in a contemporary fashion.
Innovative Elegance
Our Diamond Open Ring is a testament to creative jewelry design. Each diamond is meticulously placed to enhance the open ring's modern structure. This piece is not just a ring; it's a work of art that adds a touch of innovation to your jewelry collection.
SHIPPING AND RETURN INFORMATION
Shipping Information

All expedited domestic shipping is complimentary.  There are no order minimum to be eligible for complimentary expedited 2nd-air day shipping. However, please note that all deliveries require signature by an adult. 

For more information regarding shipping Click Here
Return Information

Our goal is for you to be delighted with any item you buy from Lumije.com.  In the unusual event you're not delighted, we offer the following:

Our refund policy allows items shipped within the United States to be returned 14-days from the time of of receipt for a full refund.  However, custom items are not eligible for return or refund. This includes all engagement rings, all made-to-order items (such as special ring sizes, engraved items and bespoke pieces)

For more Information regarding returns Click Here