Show your love with this dazzling Elongated Heart Necklace! The 14K yellow 1.86 grams of solid 14K yellow gold.  A modern heart Necklace hangs on an 18" 14K yellow gold cable chain. With 1.86 grams of solid yellow gold, this sparkly Necklace will definitely show your special someone how much you care!
Product Details:
1.86 grams of solid 14K yellow gold
18" 14K yellow gold cable chain
Pendant dimensions: 10.6mm X 7.2mm
Secure lobster clasp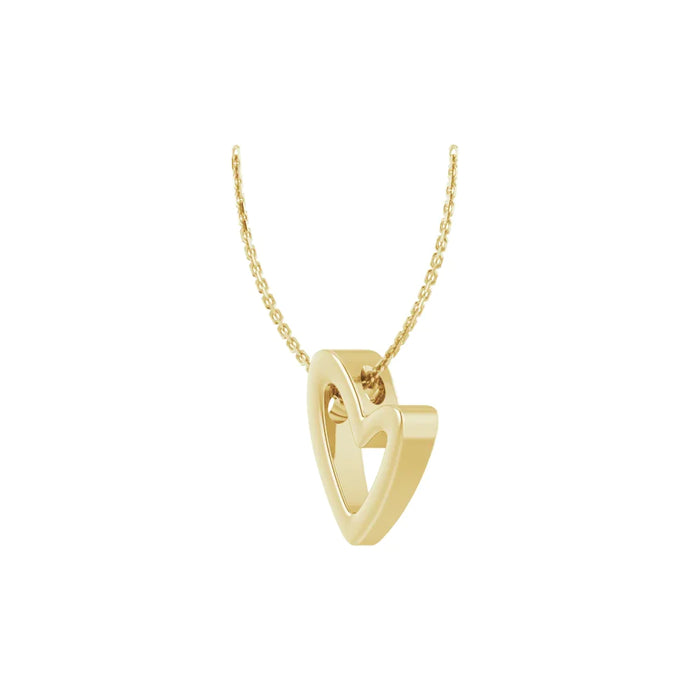 Unveiling Grace
Elongated Heart Pendant Necklace: A Symbol of Refined Affection
Embrace the essence of elegance with our Elongated Heart Pendant Necklace. This piece isn't just an accessory; it's a representation of love and grace. With its unique elongated design, it captures the heart's beauty in a way that's both modern and timeless. It's perfect for those who value sophistication in their expressions of love.
Elegant Design, Endless Charm
Every aspect of this necklace, from the slender silhouette to the delicate chain, speaks volumes of its craftsmanship. It's versatile enough to complement any outfit, making it an ideal addition to your jewelry collection.
Versatile Elegance
Choice of Precious Metals: Personalize Your Expression
Our Elongated Heart Necklace comes in a variety of precious metals, including sterling silver, rose gold, and classic gold. This selection allows you to choose a piece that resonates with your personal style and enhances your everyday look.
Adaptable for Every Occasion
Whether it's a casual day out or a special event, this necklace adapts to every setting. Its unique design makes it not just a piece of jewelry, but a conversation starter, a statement of style that's both subtle and striking.
SHIPPING AND RETURN INFORMATION
Shipping Information

All expedited domestic shipping is complimentary.  There are no order minimum to be eligible for complimentary expedited 2nd-air day shipping. However, please note that all deliveries require signature by an adult. 

For more information regarding shipping Click Here
Return Information

Our goal is for you to be delighted with any item you buy from Lumije.com.  In the unusual event you're not delighted, we offer the following:

Our refund policy allows items shipped within the United States to be returned 14-days from the time of of receipt for a full refund.  However, custom items are not eligible for return or refund. This includes all engagement rings, all made-to-order items (such as special ring sizes, engraved items and bespoke pieces)

For more Information regarding returns Click Here